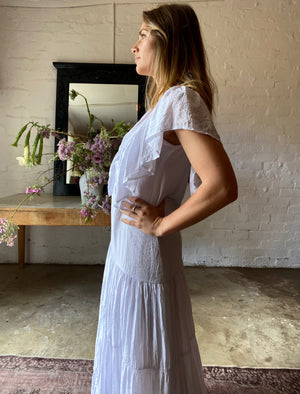 FRILL TIERED MAXI DRESS | SALE
SALE item 20% off.
NO RETURNS OR EXCHANGES ON SALE ITEMS.
.
WHILE STOCKS LAST.
.
Loving this dress! Soft and feminine. A-line skirt with multiple tiered layers, working its way up to a fitted and smooth bodice, ending in fabulous loose flutter of sleeves.
.
This dress is more fitted, please take note of the measurements. Especially bodice and hips.
.
Soft slightly crushed crisp white cotton blend | Forest green cotton blend.
.
SIZING
8
Bust 90cm, Armhole 45cm, Waist 90cm, Hips 105cm, 140cm.
10
Bust 94cm, Armhole 49cm, Waist 94cm, Hips 110cm, 144cm.
12
Bust 98cm, Armhole 54cm, Waist 98cm, Hips 115cm, 148cm.