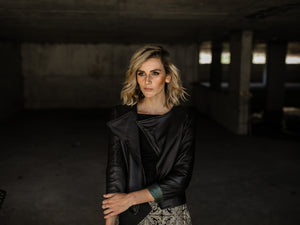 HEIRLOOM LEATHER | MODERN JACKET
MADE TO ORDER
.
If there was ever a garment to invest in, this would be it. The design is simple but effective with only a few style lines to elevate both the design and your figure. It is made out of soft and dreamy Nappa leather, which means the more you wear it, the better it gets… and how often do you come across a garment that ages beautifully? As with all things natural, you will find spots and blemishes on the leather, but this only means that all jackets will be unique in its own way.
This item is a life-long investment!
.
This modern fitted jacket is made of the softest genuine leather - sheep Nappa.
..
Lined with luxurious fabrics.
.
Available in Black and Brown (Rusty Tan).
.
LEATHER is a natural product - natural blemishes of the skin is part of the beauty. If you want a blemish free item, opt for a pleather jacket elsewhere :).
.
Please note, we do not accept returns or exchanges on MADE TO ORDER items.