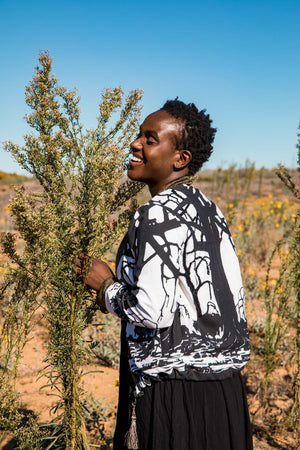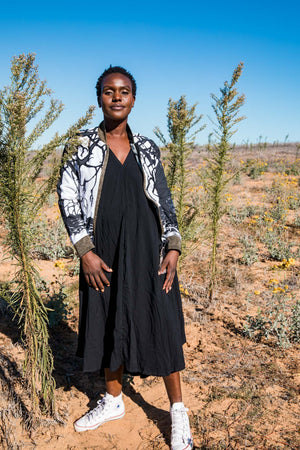 LINOCUTS | PIERNEEF COLLECTION | | DRAWSTRING JACKET |PRE ORDER
Jacob Hendrik Pierneef was a prolific South African artist at the beginning of the 20th Century. 
His work is ICONIC.
I count it as one of the biggest blessings of my life and an immense honor to be granted the permission to use some of his paintings and linocuts in creating these special jackets.
.
These beauts take time -  please allow for attention to detail. 2-4 week leadtime.
.
FOUND. Collection and Rest.Established collaboration - our offering, a classic collector's piece. 
.
Each jacket is a work of art - design and layout as well as bespoke beading specific to each detail will make your jacket completely unique.
.
Wilger Bome / Willow trees.
Expertly printed on Linen/Rayon mix.
Expertly made by Theresa.
Hand beaded by Theresa and team.
Lined with rich blue and white patterned cotton knit. 
.
Gold or gunmetal details all round, including the bit of shimmer on the cuffs and neckline.
Pretty tassels finish on drawstring.
.
SIZING
Generous sizing.
6- XS
8 - S
10 - M
12 - L
14 - XL